If soaking your way to tranquillity in a private outdoor tub is your idea of perfection, then the Margaret River Region is the right place for you.
Here's a list of our favourite places to stay where you can indulge your outdoor bath fantasy.
HIDDEN VALLEY FOREST RETREAT IN CARBUNUP RIVER
Each sanctuary at Hidden Valley Forest Retreat has its very own outdoor bath, nestled amidst the breathtaking wilderness of the Margaret River Region. Deepwater Retreat offers guests an elegant sunken spa, right on the edge of the forest. Stone Stable has its own stand-alone tub in a private outdoor courtyard, while the Wilderness Cabin and Eco Lodge have private baths on beautiful decks, surrounded by nature.
Finish your relaxing bath with a full body massage, facial or any other treatment from the Retreat's in-lodge spa service. (Just be sure to schedule your treatment ahead of time!) Or book a special 'Romantic Arrival', which includes champagne, red rose petals and delicious chocolates – best enjoyed while soaking yourself to oblivion.
KARRIDALE COTTAGES IN KARRIDALE
Karridale Cottages has curated the ultimate outdoor bath experience for their guests. You'll take a short stroll, along a lantern-lit pathway, to a sumptuous stone bath tub surrounded by majestic jarrah and marri trees. The free-standing tub sits aloft a deck, with an outdoor fire pit blazing when the seasons turn cold.
The bath itself runs on solar energy, which we have to say is pretty cool. Plus, guests get to indulge in bath salts, made from 100% natural ingredients, by local maker, Corrynne's Natural Skincare. An outdoor bath in the incredible Karridale forest is the perfect way to shake off the hustle of everyday life and ground yourself in the calming beauty of the Margaret River Region.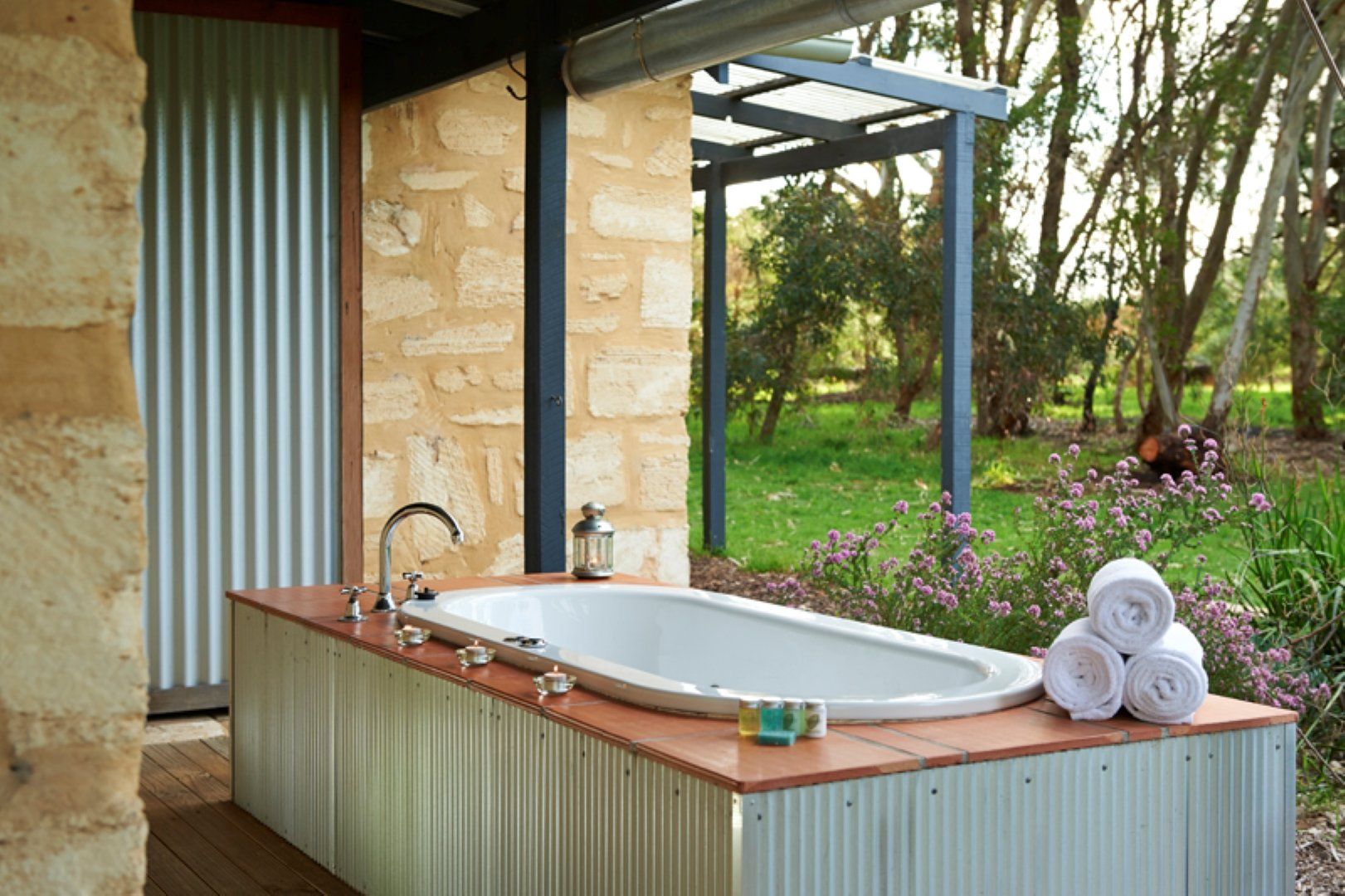 BURNSIDE ORGANIC FARM IN MARGARET RIVER
The legends at Burnside Organic Farm offer up a magical outdoor bath experience, with a beautiful stone bath, located in a private spot on your own deck. You'll get to soak up the natural beauty of the forest, while soaking your way to max relaxation.
Afterwards, catch up on your reading or simply relax with a glass of wine in the bungalow's sofa nook, or enjoy epic food and wine from the region, with the people you love most, in their super awesome (and spacious) outdoor entertaining area. These limestone bungalows are loaded with charm, and their outdoor baths are sure to level-up your holiday.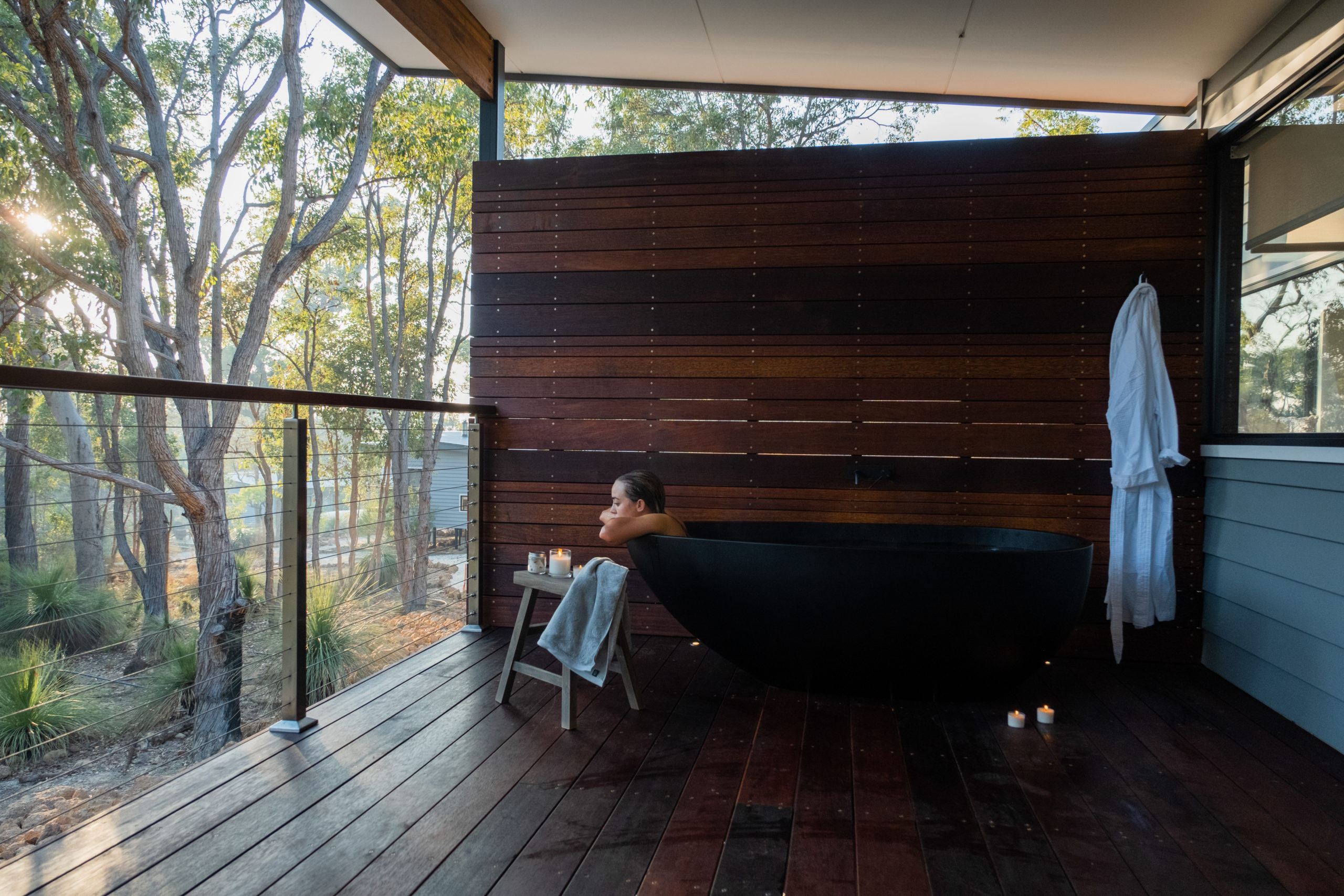 BINA MAYA IN YALLINGUP
Bina Maya takes the serenity to 11, with their newly built luxury villa, which also happens to star an outdoor bath. This extra special accommodation spot is nestled amongst the beautiful Yallingup Forest, which means you can soak up the nature in the sunshine, or under the stars with a glass of Down South sparkling in hand.
The 'Ultimate Luxury Villa' has two king size beds or one king and two singles, which makes it perfect for couples, families, or friends in need of a relaxing getaway. You'll get your own private balcony, sumptuous bath robes and a cosy wood fire for those cooler nights. There's also a gorgeous rainwater shower, just in case you need a break from luxe bath life.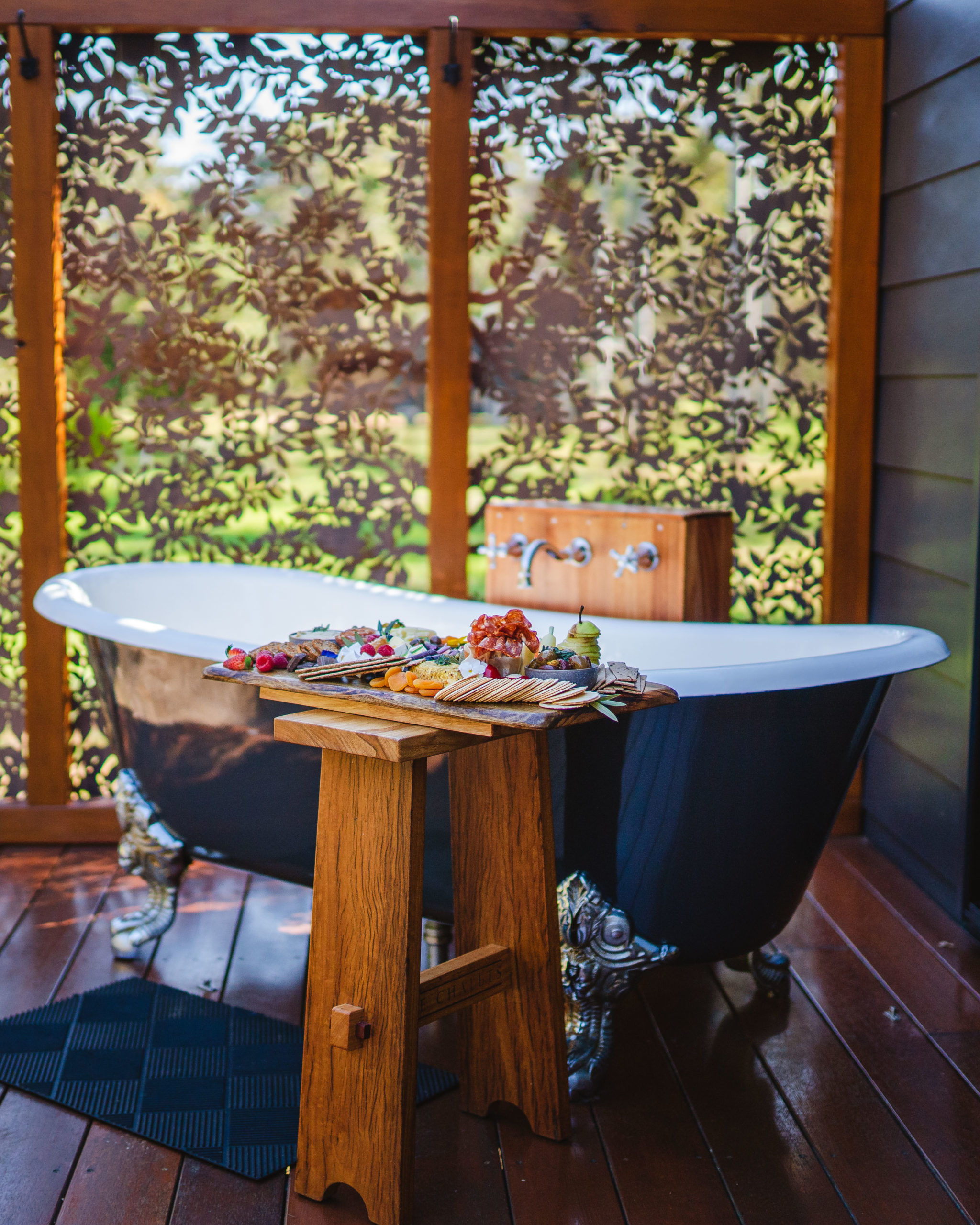 TREE CHALETS IN BUSSELTON
Andrew and Fran Robinson's award-winning eco-friendly Tree Chalets offer guests the ultimate 'Outdoor Bath Grazing Experience'. Guests can enjoy a private outdoor bath, while taking in the beautiful rose gum plantation that surrounds each off-grid chalet.
As part of the experience, you'll get to enjoy gourmet cheeses, dips and other delicious produce from one of their 'Food Art Grazing Boards', while soaking in a charming stand-alone tub you will never want to leave. Guests also receive complimentary bath salts and can choose to indulge in an 'Exhale in the Gumtrees' massage afterwards.
(Article attributed: Margaret River Region)